Promote Your Song Here Whatsapp +2349095635533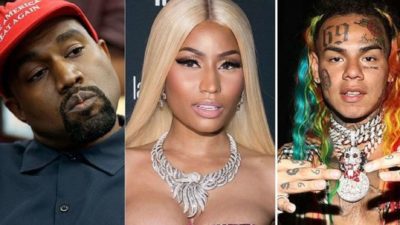 There was gunfire at the video shoot of Tekashi 6ixnine, Kanye West and Nicki minaj in Beverly Hills on Thursday, night according to reports.
As much as 10 shots were heard fired and many believe it is a drive-by shooting incident while others believe it was an assassination attempt on either of the 3 hip-hop stars or 3 of them combined.
Reports gathered that one of the bedrooms in the venue of the set got hit by a bullet and after further investigation, it was gathered that the bullet hit a wardrobe inside a room Nicki Minaj was meant to stay. It was a fortunate incident in disguise for Nicki as she was not on set when the fearful incident happened, and many are now urging the female music superstar to have her stars thanked and be more careful alongside Kanye and Tekashi because the intended target(s) has not been identified.
Meanwhile, a video footage of the incident has surfaced. In the video, 2 men alights from a vehicle at around 10:30 in the night, then one hooded person says to the other, "we got 30 seconds," and the other replies, "OK." And they raised their guns over the wall and fired into the compound the video shoot was to hold.
After the shots were fired, the unidentified men made a way into their vehicle and sped off.
The police are already on the lookout for these guys, but no arrests have yet been made.
We will keep you updated on the latest event regarding this incident.
Watch video and CCTV footage below: